If you are a user and lover of Airtel network then you'll recall that Airtel NG used to give 1.5GB for N50 way back before it was axed down… and again the 500MB has been axed down to 250MB for N25.
Can we just call this season data war? Considering the facts that Glo shut down special data offer indefinitely, MTN earlier this year increased 250MB for N25 to N50 night plan and 9mobile, on the other hand, were busy introducing ridiculous data offer.
Airtel Night users were amazed last night noticing the unannounced reduction in the Night offer even though it still displays N25 for 500MB on SmartTrybe Menu. It was a moment of betrayal and disappointment for subscribers most especially those who had a line up of downloads to make.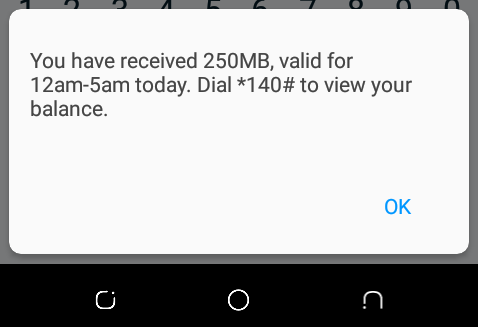 … when you are expecting to see 500MB, and you receive that shocking message that you've been given 250MB…
However the only reasonable download bundle you can go for at the moment is the newly introduced Airtel download bundle.
Airtel Download Bundle is a new plan from Airtel NG specifically meant for downloading. Maybe you have something like movies to download or any doc at all, Airtel download bundle might come in handy for you.
It gives you 1GB for N350 and valid for just 24hours.
How do I Get Airtel Download bundle?
Dial *141*354# to get the plan
Note: this offer is valid just for a day and works on all mobile devices and Personal computers.
If you don't have anything to download, no need to subscribe to this plan.