Hello guys, i have compiled this tutorial for the internet addicted users. You don't need to waste any of your money again on browsing on net when you can download unlimited for just a pea nut. Without wasting much of your time, i want to briefly share with you on
how to get 20gb on airtel for just #1,200  and it will expire in 2014
shikena.
I will be making use of BIS Subscription from Airtel.
It's very simple and short. The moment your Bis expire,
airtel will be reluctant in reactivating you back to your plan, this i
don't know why but to our advantage anyway. Just send BSM to 440 several
times… Mind you, they won't reply you until after sometime. And
again, when sending BSM to 440 on your phone, make sure you don't have
any 3g network it makes it work better.

After sometimes, they will
reply you that you have been given 20gb of your data bundle and it will
expire in 2014. Hahahahah! I know that somebody will say ha! But that's
just the triangular truth. I told your earlier  on how i got 7gb for
1,200; now its 20gb; and my next subscription will be 800gb and i know
that alone will last me till 2030, after giving birth to my 3rd child.
Should in case you are new to this, follow this steps below in subscribing for it.
How Can I Get Airtel 20gb For 1200
1. Load your airtel line with  1200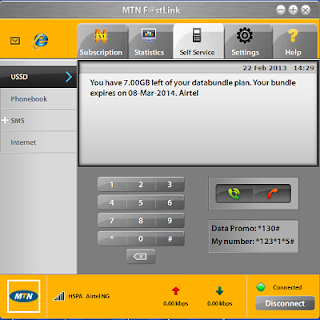 2. Send Bsm to 440, and you should receive a message shortly informing you to that your blackberry subscription is successful. Should in case you did not receive any message, keep sending it until you receive a message that you have now been given so so amount of data. The more you send the higher the data that you will be given.
3. Remove your phone battery and put it back again for it to be active.
4. Dial *141*712*0# to view you 20gig data plan and the expiry date.
Can I Use My Nokia Phone To Subscribe With It?
Yes, and capital yes. It rocks on Nokia. You can use your Nokia phone to subscribe and even browse with that plan on system.
How Can I Connect It With My Modem?1. Remove your airtel sim from your  phone and put it inside your modem
2. Plug your modem to your system and wait for it to load.
3. Go to tools – profile management
4. Click on New then  fill in these information on the field below.
Apn choose static then input this information: internet.ng.airtel.com
username:internet
password:internet
5. Save and set it as your default settings.
You can view the image i attached below has a proof of my last month 7gb guys. No dulling oooo. Yanga dey sleep trouble go wake am… lol!