I don't know if MTN is trying to tell us that they've introduce
Android data plan
but I really don't want to draw conclusion on this. Some couples
of days ago,
MTN
posted on their
twitter page
as part of their
surprise for the season
introducing a
Special Smartphone Plan
.
This plan gives you
4.5GB
for
N2,500
. Though it is somehow
related to the old Night plan and I know some of you will already conclude that
its the same
MTN Night Plan
package but it's not the same.
According to them, 1.5GB is meant' for the day while 3.GB is
meant' for the night. I.e from 6:01 am to 8:59pm, you'll be using 1.5GB; while
form 9pm to 6am it switches to 3GB.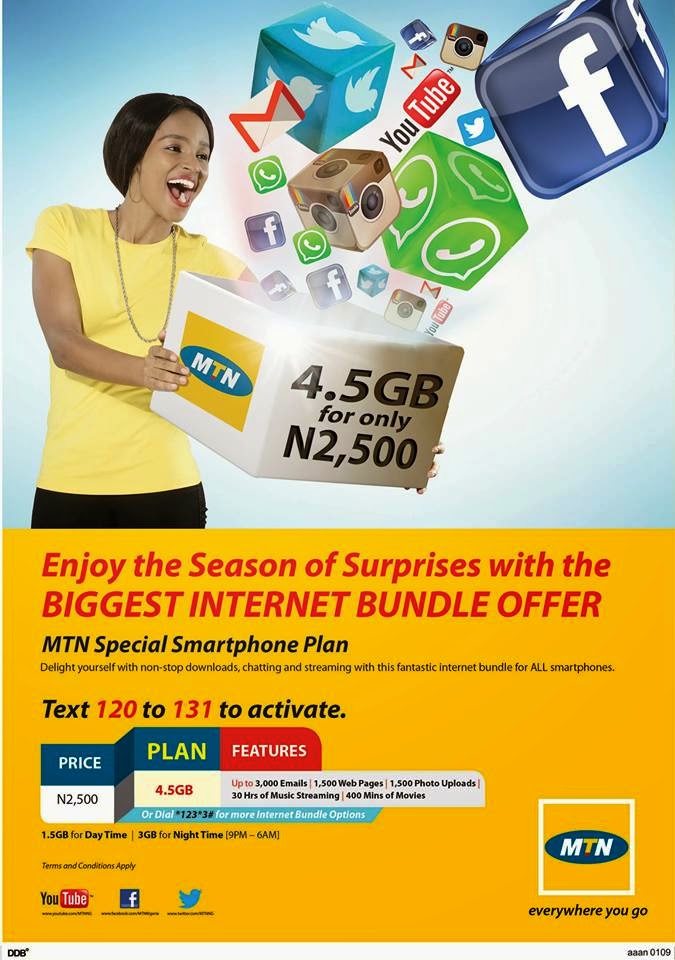 What's The Different Between This New Plan & Formal Night
Plan?


==>For this new plan, you can use 1.5GB during the day while from 9:00Pm
to 6am, the data charges switches automatically
to that of 3GB. In order words, you won't be charged from your 1.5GB bonus
during the night period but will be charged from the normal 3GB data.
==>While for the normal Night plan, you must first consume your bonus 1.5GB during the day or night
before MTN will start charging you from the default 3GB.
==>You activate this plan by sending 120 while you activate Night plan by sending 102.
How Do I activate this offer?
==>Load your phone with
#2,500
==>send 120 to 131 and it will be activated for you.
Does it Work on All Smartphone and PC?
Yes, it works on all smartphone and PC.
The question now is, will you rather go for this new Mtn
smartphone plan or rather you'll stick to Mtn third party
data reseller
giving
you 1GB for #1,200, 2GB for #2,300 compared to 4.5GB for #2,500? Android users
don suffer…