This is just an updates to all users of Whatsapp Plus or
Whatsapp Reborn
. This updates is more better than the previous updates. Every
updates is an improvement on the previous. Meanwhile, if you are still using
normal whatsapp, I think you should still try this, permanent ban is not real,
it only exist in the mind.
Why Should I Use WhatsApp Reborn V1.75?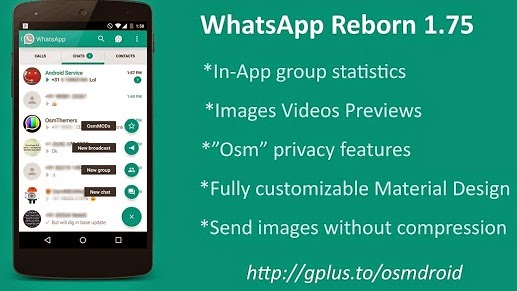 ==>Fully customization/theming options available from changing icon
to change whole look of whatsapp by applying and creating themes
==>Upload videos upto 30MB , Images in original resolution (No compression)
Media sharing options
==>Whole new MATERIAL DESIGN implementation
==>Awesome privacy features Hide blue ticks , double ticks, last seen,
"is Writing" text So you can go underground.
==>Previews options for images and videos (like there is in iOS)
==>In-App group statistics
==>Get notified when your contacts go online



Whats New in V.1.75?
==> Changed default user interface
==>PREVIEWs added for Images & Videos (without downloading like in iOS).
==>In app Group statistics feature added in group info screen.
==>New Icon added color: TEAL
==>New mods 2.3.0 , 2.3.4 , 2.3.5 added
==>Made SubMenu for PRIVACY in CALLS UI
==>[Fixed] 2.3.x mods not working in CALLS UI
==>Other bug fixes
Where Can I Download It?
For Updates
Simply Install the apk
For Fresh Installation, 
Note
, if your
call features
is activated, it will automatically
appear once you update it to v1.75.