Android
is not just a device for surfing,
chatting or taking pic but some of you are yet to explore the magic. This will
tell if you are actually using a phone or a device.
Permit me to present to you, this
awesome app you can use to increase your swag, boast among your friends that
you are the boss when it comes to handling your
Android
device. It is called
Air call
.
Air call:
This app helps you to answer
phone calls by just waving your hand
over the proximity sensor . It will also help you to attend the calls
automatically when you bring the call near your ear .Can't bring phone near air?
no worries , just enable the speaker option in preferences the app will attend the call and
enable speakerphone for you .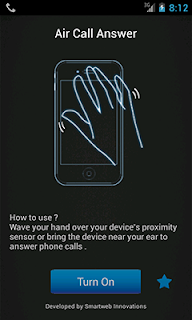 The app uses your phone's in-built proximity sensor to
detect whether you have waved your hand infront of the phone or whether you
have brought the phone near your ears .
It was tested on Galaxy Note 2 and it works perfectly.
Supported Device
It works on Android phones… So if you are using Symbian,
java, or blackberry just pretend as if you didn't see this post before we'll
blow your phone OS away.
Where Can I Download it
Two things are involve, if this app doesn't work for you,
it's either you are using a phone or
Android Nokia 3310