I guess you are going to love this because its absolutely
free of charge… MultiChoice's digital satellite TV,
DStv
announced on Tuesday
that all active subscribers will have access to premium channels during the DSTV Premium Open Week.
From Thursday, 14 April to
Thursday, 21 April, all active DStv subscribers will have
access to a buffet of premium channels that will be served during the DStv Premium Open Week.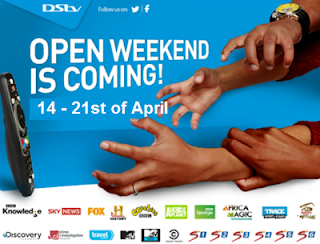 The week's menu will be filled with plenty of Hollywood and Nollywood stars to choose from
plus a delicious mix of mouth-watering content ranging from exciting movies,
adrenaline pumping sports, hit music, entertaining kiddies' shows, intriguing
documentaries and original home grown programmes which are only available on
the Premium bouquet. All active DStv subscribers on Compact Plus, Compact,
Family and Access bouquets will be treated to an appetizing platter of 36 premium channels prepared by
the best chefs in the world, in the comfort of their own homes at no additional
cost!
According to the Managing Director of MultiChoice DSTV, "MultiChoice's
key priority is to put our subscribers' needs at the heart of everything we do.
The DStv Open Week follows recent initiatives where the EPL, La Liga and Euro
2016 were made available to Compact subscribers at no extra cost and no price
increases were implemented on DStv bouquets in Nigeria on 1 April. Both these
initiatives are some of the innovative ways MultiChoice is adding more value to
subscribers' video entertainment experience, irrespective of their subscription
plans."
…From time to time, MultiChoice windows down content to
subscribers on lower bouquets as part of our reward mechanism. Our Premium
subscribers are not left out of the fun, as we launch the Game of Exploras
offer, where 1000 Explora decoders will be given away at the rate of two
decoders every hour for 21 days. All a Premium subscriber needs to do to
qualify to win an Explora, is to remain active."…
Terms & Conditions
1. Open Week on DStv Premium is only applicable to Access, Family,
Compact and Compact Plus subscribers in Nigeria
2. Open Week will make available a selection of DStv Premium channels
3. The channels will be open for active DStv subscribers to view from Thursday,
14 April at 05:00am until Thursday, 21 April at 12midnight.
4. The Open Week will exclude channels under the M-Net stable with
international content
5. The Open Week will only apply to the DStv English bouquets
6. You may have to reboot your decoder and if you still can't view the
channels, please contact our call centre or send a tweet to @DStvNgCare
7. Subscribers without an active subscription on the lower tier bouquets
(Access, Family, Compact and Compact Plus) will not be able to enjoy key
channels and content which are currently only available on the DStv Premium
bouquet during the Open Week
What is your take on this?