I was surprised this morning when seven (7)
MTN SME Data
resellers mail me that they got this
message from MTN
"
Dear Customer, you have
already reached your quota of 10 maximum shares for your plan. Please purchase
another plan to be allotted another 10 shares" and
could no longer
sell data beyond 10 subscribers and I was wondering what could have led to
this? Is it that MTN are suddenly
loosing data subscribers to their normal expensive plans or MTN Data Share resellers and intelligently and codedly snatching away MTN customers
from them?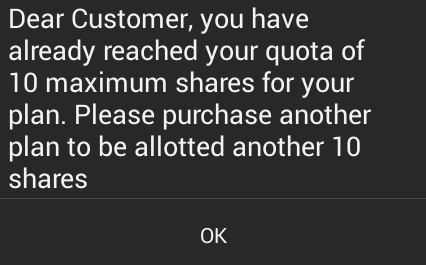 I don't want to draw conclusion now, on this but still want
to observe it for like 3 days to see how
it goes because it will really spoil 3rd party data resellers
business if this
MTN SME Data Share
is limited to just ten persons; and not
only will their business be affected but all android, iPhone/iPad and PC users who are bench on using data from
MTN third party resellers will equally suffer this. Because personally, I
can't imagine myself getting
250MB
data for
#1,000
when I can always get
1Gig

for
#1,000
from reliable third party agent.
The question that is yet to be answered is could this be the
end of MTN Data Share Business?
Possible Solution to This
==>If you are a heavy Data seller, don't buy beyond 10GB
per day and make sure you finish this before buying another plan. Only that the
principle of the higher you buy the data the cheaper the price may no longer be
applicable here… meaning the prices may go up if you actually want to make profit.
Those That Will Suffer This New Development
==>Those who buy lower than 250mb and 500MB … because no
data resellers will want to sell anything below 1Gig anymore since they're
being limited to 10Subcribers only.
Well, let's hear what data resellers have to say on this.