Hello Guys, we all know that data is important… but it is
more interesting when you discover that you can get affordable data at a more
cheaper price than you expect. Regardless
of who you are, what you are, and where you are, there is always a data plan
that suite you. My job is to make sure you get the best cheapest and fastest
data plan ever.
Fasten your seat belt because I'm about
to take you on a flight that will last you for 31 days before you reach your destination.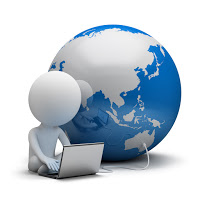 This will be long but just scroll to
the one that suite you.
Best Data Plan for Ordinary Data Users
MTN:
The only thing that is new about MTN in
September
is their current
double offer promo
. You don't even need to tweak your IMEI before you get this promo offer.
The only thing for you to do, is to put any of your MTN sim card into a newly
enable 3G/4G smartphone and you'll get this message below
…Welcome
to MTN Family… enjoy 100% data bunus for 6months.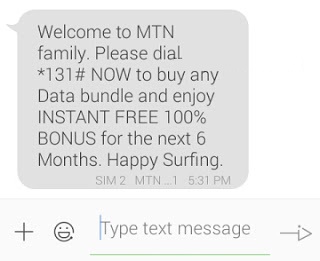 With this double data offer, if you buy 3.5GB data for N2000, you'll be given 7GB for good 6 months.
But
if you can't get your hand on any new phone, kindly tweak your IMEI to any
new 3G/4G new phones and you are good to go. See how you can tweak your IMEI
here
.
Glo:
Glo N0.0 free browsing has been around for quite some weeks and some of you are
already rocking it but for those who don't know, you can also be part of them.
Requirements
>>Your
Glo balance must be 0.00
>>Strong
3G network
>>Android
phone
How
to Set up Glo N0.0 With QueenCee VPN
>>First
of all, send an sms
PAYU to 127. You will receive a reply that you are using data as
Pay As U Go to browse.
>>Download QueenCee VPN
here
APN SETTINGS
Just change only APN to any of the APNs
below;
» glosecure
» glounlimitedzone
» gloflat



Launch
your
QueenCee VPN
and set it as follows;
Front Query:
redirect.global.com
Back Query:
%[email protected]
Proxy Server Type:
Real Host
Proxy Server:
redirect.glo.com
Real Proxy Server Type:
default
Port:
8080
Tap the
Save
button
a pop up message will appear requesting to use Tunnel whole device, just tap on
the option to
Tunnel Whole Device.
To go to More Options, kindly swipe from left to right on the Main page.
You will see VPN Settings and VPN Options. Tap on VPN Options and untick
Connect
Through An HTTP.
In Region, select United States or Netherlands. Go back now to the main
page of the QueenCee VPN and tap the Start button, wait for few seconds for it
to Connect.




How
to Set Up Glo N0.00 Free browsing with Latest Tweakware VPN
Kindly
Send PAYU to 127 and wait for the message
Set
your Glo APN to the below;
APN Settings
» APN: glounlimitedzone
» APN Type: Tick Default & Supl
» Proxy: leave it blank
» Port: leave it blank
Download or upgrade to the latest version of tweakware vpn
here
»
On the Tweakware VPN, go to Settings
»
Click on Bundle Settings
»
Tick Enable Bundle Settings
»
Select Bundle Settings >> select (NG Glo) 0.0#
Here is the Simple Trick You Need to Apply
»
Go back to
Settings
»
Click
Server Settings
»
Click
Connection Mode
Options
»
Now tap on
HTTP Host
,
»
Then clear
www.facebook.com
and input
redirect.glo.com
Go back to your Tweakware VPN app menu, select free server if you don't
have premium account yet and hit the connect button.
Etisalat:
How
to Set up Etisalat Free Browsing N0.00
With QueenCee VPN
You can also use Queencee VPN to surf on
your Etisalat with 0.00, but you'll need
to apply common sense to bypass the 60MB capped.
Requirements
1. Etisalat sim with 0.00 balance with no data on it
2. Your Android phone
3. Queencee Vpn
APN Settings
APN: etisalat
Username and password, leave
them empty
Settings on QueenCee
Proxy Server Type: Real Host
Proxy Server: ent.nxtfwd.com/s/d/
etisalat_ng#openModal
Real Proxy Server Type: Inject
Real Proxy Server: 10.199.212.2
Port: 8080
Tap on Save button.
How to use more than 60MB
If you reached the 60MB data allocated to that proxy server, kindly replace the
above
proxy server with any of the server below;
Proxy server: ent.nxtfwd.com/s/d/
etisalat_ng#close
Proxy server: ent.nxtfwd.com/s/d/
etisalat_ng#closeModal
Proxy server: ent.nxtfwd.com/s/d/
etisalat_ng#open
Repeat the same as posted on Glo, and you are good
to go.
Simple
Data Plan Users
Airtel:
Airtel Nigeria
is currently offering cheap and affordable data subscription but
it is sim selective. The offer gives you 6GB for N1500 and it works on all
devices.
How
Do I Know if I'm Eligible?
*440*161#
If you are eligible, just go ahead and recharge your line with
N1,500 and rock the plan.
Airtel Blackberry Plan on Android Devices:
Airtel Blackbery
Plan of 3GB for N1000 is
still rocking very well on Android devices but the free offer of 1GB for new
Airtel sim has been stopped. See how to make it work on your Android device
here
.
Etisalat: Instead of subscribing directly to
Etisalat data plan, you can easily easily get from a reliable third party
vendo, theirs doesn't zap and it last longer than expected.
Best Data Plan For Heavy Downloaders
For
heavy downloaders, the best is to have it unlimited. And no network in
Nigeria for now gives you unlimited. Unlimited plans have all been scrapped
including Airtel unlimited night plan. But you can get 15GB
with just N500 for Airtel night plan.
Airtel's
Night Plan:
Airtel recently introduced these night
plan
1.5GB for N50
and
500MB for N25. The plan replaced the unlimited Night plan.
How
Can I Get The Airtel Night Data plan
You
must migrate to Airtel SmartTrybe by dialing *312# then reply with 1
1.
Kindly Dial *312#
2.
Reply with 2 for N500 For 1GB (7 days)
3.
Reply with 3 for 500MB for N25 and 1.5GB for N50 (Night Plan 12am – 5am)
4.
Reply with 4 for N200 for 200mb + 30Min call (Weekend: Sat and Sun)
Here
is the trick on how to get 15GB for N500.
Subscribe
for 1.5GB for N50, once you exhaust it, subscribe again until you are satisfied
with your download.
Best
Data Plan For 4G Network Data Users
I
don't too talk much on 4G because it is not yet available in every state but
for the time been, it will be available in all state.
Smile
is currently offering unlimited lite monthly data plan for just N10,000 for these
states; Asaba, Benin City, Ibadan, Onitsha and Kaduna. If you are in that
state, you can give it a shot.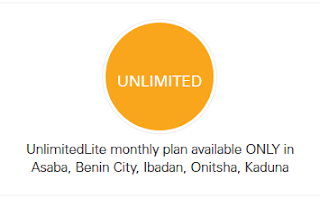 With
time, I'll list all the 4G network data plan and the cheapest among them.
And always
remember this formula, SLOW NETWORK
+DATA + SMARTPHONE= ANNOYANCE.