There is a new messaging app in town and I bet it will make
Facebook
jealous. While Facebook has
been working to integrate bots with Messenger, Google went ahead and built a
messaging app around the most useful bot there is: Google (googl,)search.
Allo, which was announced in May but is now available for
download, marries Google search with many of the fun features people have grown
accustomed to using in other apps.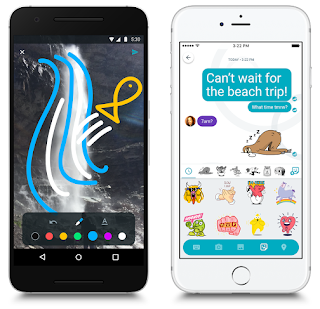 By now, you should be rocking its twin brother
Duo
, google
very own dedicated video calling app, easy to use and user friendly even with
slow internet connection.
Both
Duo
and now Allo are tied to your phone number rather
than your Google account, Duo is a dedicated video calling app; while Allo is a
dedicated Instant Messaging app comparable to the likes of WhatsApp and
iMessage
Google Allo carries a
number of like-minded features which includes
>> group chatting,
>>stickers packs
>>and the option to let messages expire.
>>Dedicated Assistant akin to Google Now, which can
readily answer your questions and queries with the '@Google' command.
The big thing that's missing is the ability to make video
and audio calls, which was intentional.
Where Can I Download it?
For Android users, download it
here
For iOS users, download it
here
Note, it is still rolling out to countries gradually…
Google Allo is a smart messaging app.