I don't know if we should call this good news for
Android users
or not but the most important thing is after nearly 7 years,
Android 2.2
Froyo
launched in May 2010 has finally dropped off the platform distribution
numbers. What this means is that the maiden Google OS is presently installed in
less than 0.1% of devices globally.
Froyo has been hanging on at 0.1% of active Android devices
for ages, but now it's dropped below that mark and is no longer included in the
platform numbers. It was still there last month. Now that Froyo is dead, we can
start the Gingerbread Deathwatch. It's currently sitting at 1%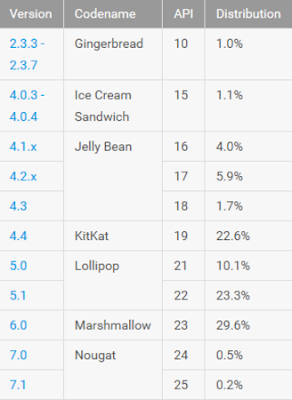 Android 5.1
Lollipop
still tops the chart with a total of
33.3%
on the distribution chart, this is closely followed by Android
Marshmallow with 29.6%.
Android KitKat
comes in at the third position with
22.6%, while Android Jelly Bean completes the top 4 with 11.6%. Google's
latest mobile OS, Android 7.0 Nougat is still at its lowest, with a 0.7%
distribution figure four months after it was released.
Everything else is only changing by fractions one way or the
other. Those of you still on older operating system, it's time to upgrade.