Social media giant Facebook is currently working on its own
version of
Apple Face ID
and has already been rolled out to some selected few
for testing. Security is very important that was why two-factor authentication
was introduced but what if you lose your phone number, how will you receive the
code?
This is why
Facebook
is giving you another option –
Face ID
Authentication
. According to Facebook, the facial recognition feature for
verifying an account will be only available on those devices that users have
already used to log in. Currently, it is testing it by making the feature available
to a small number of users. If the feature proves to be reliable and cannot be
fooled by hackers, it may be made available to wider audience.
Here is a screenshot of the new facial scanning feature shared
by
Matt Navarra
to The Next Web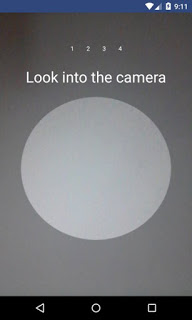 How Will The Facial ID Work on Facebook?
You will be required to hold their phone to their face and
then the Facebook app will scan the face and compare it with the tagged images
and videos of the user that are present on the site. Once a match is found, the
account will be unlocked.
As pointed out above, if the facial scanning feature is
highly reliable and cannot be hacked by using a picture of any user, Facebook
may consider rolling it out to mass audience.