Some of you have waited for this day to come and now it's
almost here and I'm pretty sure you don't want to miss it. 11:11 deals is just
5 days away and lot of coupons are still available for grab on AliExpress
usable on 11:11.
Oukitel official
store is giving away $40 coupon should in
case you want to buy a discounted Oukitel smartphone… check
here
for the coupon.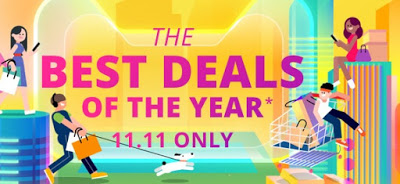 Add caption
Lenovo Official
store is giving away up to $10 coupone check
here
Doogee
is giving upto $50 coupon, check
here
to get it. Do
you know you can get Doogee smartphone for just N23,530 with good dual rear
camera?
Asus Official store
is giving upto $10 coupon check
here
and most of their devices will be
sold at a giveaway price. Do you plan buying a phone and you don't know which phone
to buy? Do you want good smartphones below N40,000? Then don't miss a date with
the 11:11 Promo.
Check
here
for more coupons…