Remembered we earlier talked about Admin super powers coming to WhatsApp
that gives group administrators more powers where they would be able to
restrict all other members from sending text messages, photographs, videos,
GIFs, documents or voice messages.

The popular mobile messaging platform has submitted the Restricted
Groups setting via Google Play Beta Programme in the version 2.17.430.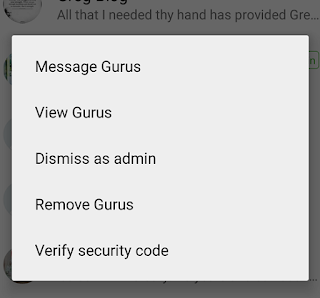 For now WhatsApp as activated a new feature called "Demote as admin". The
new feature will allow one administrator to "demote" or
"dismiss" other administrators, without first deleting them from the
group and then adding again as normal participants. Before now, when an
administrator wants to remove a fellow administrator from the post, it is
required to first directly remove the concerned administrator from the group
and then add him or her again.
But you don't need to do that with the new feature since it allows an
administrator to dismiss another one without removing him or her from the
group.
It is currently available for WhatsApp beta testers on iOS and Android
version 2.18.12 and will soon be rolled out to normal WhatsApp users.
If you are a beta tester and a group admin, update your WhatsApp to the
latest and you'll see the new features visible.