WhatsApp Instant message has again add another improvement
to its messenger and I'm sure you all are going to love it.
If there is any updates users have been expecting changes is
the voice messages. Before now, you aren't able to listen to your voice
messages on
WhatsApp
before sending them and every incoming call will
automatically terminating the voice recording.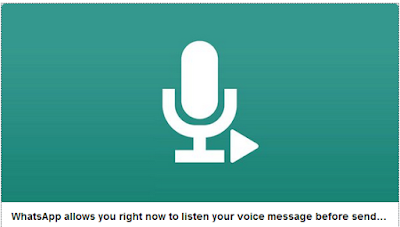 But there is now a bit of change on the latest version of WhatsApp for iOS that fixes the two bug. You can now listen to your voice
message before sending them to the recipient; and also, when you are recording
a voice message, and you receive and incoming whatsapp call, your voice message
would no longer be deleted but will be saved.
This is how it works;
When you are recording a voice message and at the same time one of these situations happens:
· You receive a new WhatsApp
(or system) call;
· You listen a voice message;
· You close WhatsApp;
· Your battery is low;
· You want to forward/delete a
message or you change chat/section;
· You view an image, video,
album…

WhatsApp will save your voice message and you won't lose it!
How to get this update on iOS?
Update your whatsapp to version 2.18.10
We are hoping that this feature will be available for
Android users pretty soon!
via; Webetainfo