One thing most of us always forget the moment we get a new device
is to back up. The first thing you should do the moment you get a new android
phone is to create a
scatter file
and then back up so that you can be on a
saver side.
Those of you using
InnJoo Max & Max2
and other newly
released lollipop device should back up your device or stand the risk of facing
the rot of Android gods.
Well, everyone using Mtk devices should have this tool install
on their PC. Its not just a tool but Mtk support tool for MT6732, MT6752 and
older chipset.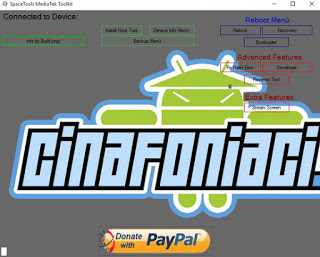 What Can I Do With This Tool?
==>With this tool, you can create a full MTK flashable backup
of your devices,
==>You can change or repair
imei
of the device and fix NVRAM
WiFi error problem.
==>You can also backup and restore NVRAM to fix baseband issues with this tool
(BETA)
==>You can use this tool to test major application on your phone like
Antutu, GPS, Touch and display etc
==>For those of you who like tweaking MTK smart phones, you can check full
device info, edit your build.prop file easily, install root tools apps like
supersu, sd maid etc an uninstall system apps (be carefull with this option).
One of the coolest and sweetest option for this tool is for the fact that it
can stream your device screen on your PC. Most especially when you have a
broken or damaged screen. For this option to work, java runtime
environment (jre) must be installed on pc.
Where Can I Download it?
Download SpaceTools MediaTek Toolkit from
here
This is a very nice and useful tool for all those using MTK
devices. Whats your take on this tool?