I'm
not denying the fact that there is a smart phone in
the market that has got excellent out of the box features for the moderate
pocket, incredible camera pixel for the selfie babes/dudes;  and excellent battery life… it is the Tecno Camon C8.

I'm tired of glorifying this device so let me just go straight to
the point. Tecno promised to release Marshmallow update in February and up till
now, no update has been release other than the HiOS UI.
March is almost ending
and yet no OTA update for this device. Every other Tecno devices have never received
an upgrade before, and this one that we are hoping on is not forth coming.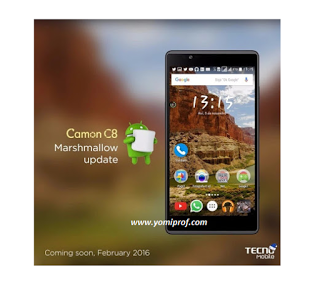 I read from Tecno forum that it will be coming Between May – July which
means even they too are not sure if at all Tecno Camon C8 will ever kiss the
Marshmallow update. My question is will Tecno Camon C8 ever receive Android 6.0
Marshmallow upgrade?
Tecno users, your opinion count.