WhatsApp
has finally introduced the new pin chats feature
for all Android users. The feature was earlier this month rolled out to
Android beta users
. The pin chat feature in WhatsApp allows users to pin favorite
chats on top of the Chats tab. With the new feature, WhatsApp users can pin up
to three contacts on top of rest of the conversations.
One of the biggest highlights of the new Pin feature is that
once you pin a chat, it will remain on the top of your chat list, irrespective
of your dialogue or conversation timings with the individual or group
concerned. Users will be able to see any new chats or conversations following
the pinned chats.
How
to Pin Chat?
>>Tap and
hold on any chat and you'll get a new pin icon in the action bar next to the delete,
mute, and archive functions.
For now, only 3 chats can be pin after which get a small
toast notification message saying you can't pin more.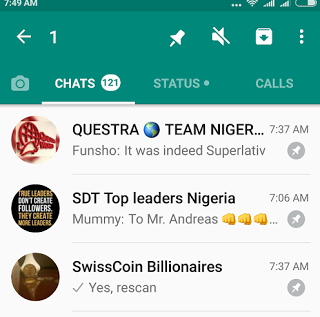 iPhone users will have to wait slightly longer – but the
feature is likely to come to at some point in the near future.
We are still expecting the un-send features to be rollout to
beta users any moment from now.