Two months after rolling out Picture-in-Picture mode feature out to beta users, WhatsApp has finally rolled out PiP mode to all Android users.
Even though iPhone users have been enjoying the feature since the beginning of the year 2018, it is now time for all Android users to enjoy the same.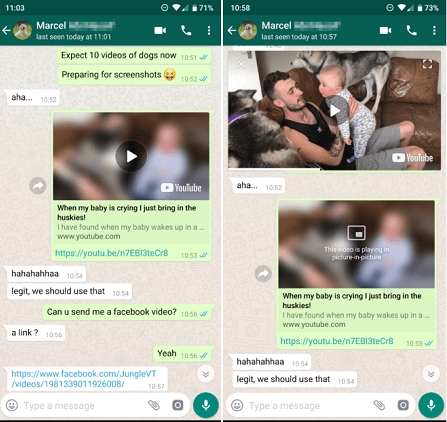 The new feature dubbed PiP (Picture in Picture) mode allow you to view YouTube, Facebook and Instagram videos directly in WhatsApp.
So if someone share a YouTube, Facebook, and Instagram video with you on WhatsApp, the link will no longer take you outside of whatsapp but right within the app, There's a play button; tapping it expands the video to the top of the chat and starts playing.
The entire WhatsApp conversation remains active underneath it, so you can still type and read and scroll normally.
If you are using normal WhatsApp, just update your app to the latest and the feature will be active on your instant messenger. we can't help but wonder why it took WhatsApp so long to make it available on Android devices.