Hmm mm… I keep wondering if all this network communication
taught we are fools. And over the weekends, I was wondering why on earth
Glo
  introduce another plan called
Glo Allawee
and you'll be entitled to
18K

free of charge if your migrate to
Glo Allawee
… Not until when I was able to do
my maths well. So people don't be deceived, Glo isn't giving you
18k
when you
migrate to glo Allawee, don't be deceive.
This is the math; you'll only be given extra N50 daily
when you use up-to N50 in making calls. Now do the math, 50 multilply by
360 days will give you exactly 18,000. So I still feel Glo is being trickish
and nothing like Allawee, instead Allazap.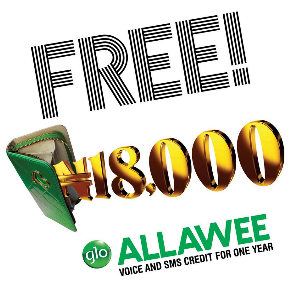 If you are going to be opting for any of their so called Glo
festive bonus, just make sure you go for the overload bonus and not the messy
allawee.
And does of you your
Etisalat PayG
stopped working, and you
needed to download heavy files this season, try this trick below
New Etisalat Pay G Trick For Heavy Downloaders.
1. Get your sim on easycliq so that you receive free MB when
you recharge. Subscribe to the payg plan.*229*5*7#
2. Recharge N100, they give you 5mb or 10mb depending.
3. Start your browsing, preferably downloading.
4. They usually reset the connection at 55mins, so ur download will most likely
stop at that time.
5. Just disconnect or switch of your data and then reconnect. No need for
codes.
6. After another 55mins, do the same again.
This can be used for days with the initial N100 still intact. Your free 10mb
will be reduced to 0.48mb and that will reduce by 10kb after each cycle.
Note: Do not visit HTTP://YOUTUBE.COM or else
you kiss your MB goodbye…