Well,
have you ever be in a state where you are expecting a life changing call or sms
and suddenly one annoying sms pop into your phone without knowing the source? Or
all the time you normally receive unwanted calls from some individual you don't want to talk to? You know it can be so
annoying numbers like 35685, 33113, 35020, 33115 etc sending you spammy messages
all the time without your authorization.
I'll show you how to stop those numbers from sending you
messages and at the same time, stop unwanted calls from reaching you.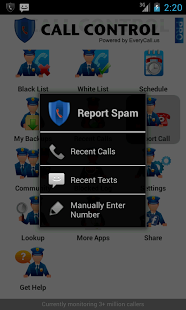 How To Stop Numbers Ranging From 33+ From Sending You
Spamming Messages
Just send "stop" to 33111 and you will receive a message
that you have been remove from their data base.
For Android iPhone and Blackberry Users
Call Control
is an application downloadable on
Googleplay
,
super easy to use and is trusted by more than 5M users to block unwanted calls
and texts. With Call Control – your phone only rings when you want it to.
Why You Should Use Call Control
==>Automatically blocks thousands of active spam callers
==>Personal Blacklist lets you block any phone number or
area code
==>Call waiting blocking supported
==>You can easily block unwanted numbers from sending you
text messages or pictures without your authorization
==>Block Private & Unknown calls
==>Personal Whitelist and Contacts Protection – Make sure
important calls are never missed
==>Online and Local Backup – backup of your personal
lists so they are never lost.
Where Can I Download it?
Android
users should visit Google play,
blackberry
users
should visit app world and
iPhone
users should visit iTunes to download this
app.