Whoever you are, whatever your race, wherever you are, it is
just one little round leather object that unite the world together. You don't
need to think twice before you do the wanted with the available by just a
single prediction.
Today, Champion league group stage, Bayern Munich vs Man City
FC will be meeting 7:45pm Nigerian time and I need you to drop your prediction
right in the comment box. The first three (3) person to Predict correctly will win
500MB of Mtn Data.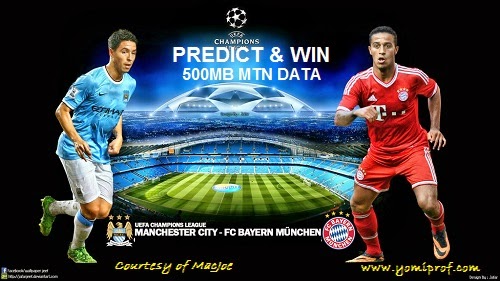 Rule of The Game
==>Drop your goal prediction, name and your MTN phone
number
==>Don't drop more than one prediction or it's will be
render null
==>Prediction end 7:30PM today
Remember, you don't have anything to lose at all but
something to lose by simply not doing anything. Why are you starving your
device of data? Let the predictions begin.
This is brought to you by
MarcJoe
…
Cheapest, trusted and
reliable Mtn Data Seller
.