One thing I love about
Android
device is the ability to
tweak your device the way you want without any restriction. You must have been
wondering  about running multiple
instance of one app on your Android device if you wanted to sign in to two
facebook account
,
twitter
or
Instagram
accounts at the same time. Officially
it's not possible, but with what you are about to read, it will wow your mind
just like I already posted for
Jailbroken iOS
device using
Social Duplicator for multiple WhatsApp
.
However, if your intention is to run Multiple
WhatsApp
account on your Android by cloning WhatsApp app, this guide is not for you. You
might get successful in cloning WhatsApp but due to security features of
WhatsApp "
Verification failed
" error will pop up. But if you really wana run
varieties of whatsapp on on android device, ask me how?
APK Editor is a powerful tool that can edit/hack apk files
to do lots of things for fun. But for the purpose of this post, I'll
concentrate only on cloning your applications.
Requirements
The file is zipped so if your Android doesn't have winzip,
download one
here
How Can I Run Multiple Apps on My Android?
==>Install Apk editor you downloaded above on your
android
==>open the Apk editor app and make sure seen directory
is /sd card/.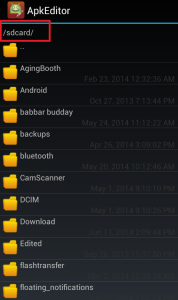 ==>Important: You need to get apk for the app you wish to
clone on your Android. If you are unfamiliar with the apk download procedure,
please follow this guide
Download apk on PC
. Transfer the downloaded apk file from PC to
your Android via USB cable. For reference, I am taking
Instagram
to clone on my
device.
==>Now open Apk editor
File Manager app and locate the apk you transferred to your device in the
previous step. Long press the apk
and from the pop up Select "Clone". Press
Ok.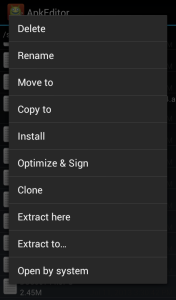 ==>Now, Change the name of the
apk. Name it Whatever you wish and Press Ok.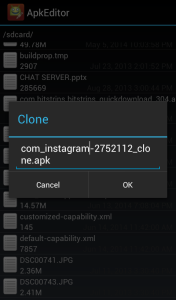 ==>Now open your
regular File manager app and locate the cloned app. Install it as you install
any other app.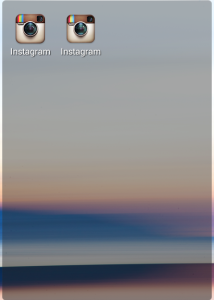 ==>That's it… You can do the same and install variety of
apps as you wish.
Remember, if you are able to follow this steps
successfully, you are the boss, if not your Android smartphone is your boss.